€

25.00 -

€

29.00
Folk 2 inch martingale collar with black hardware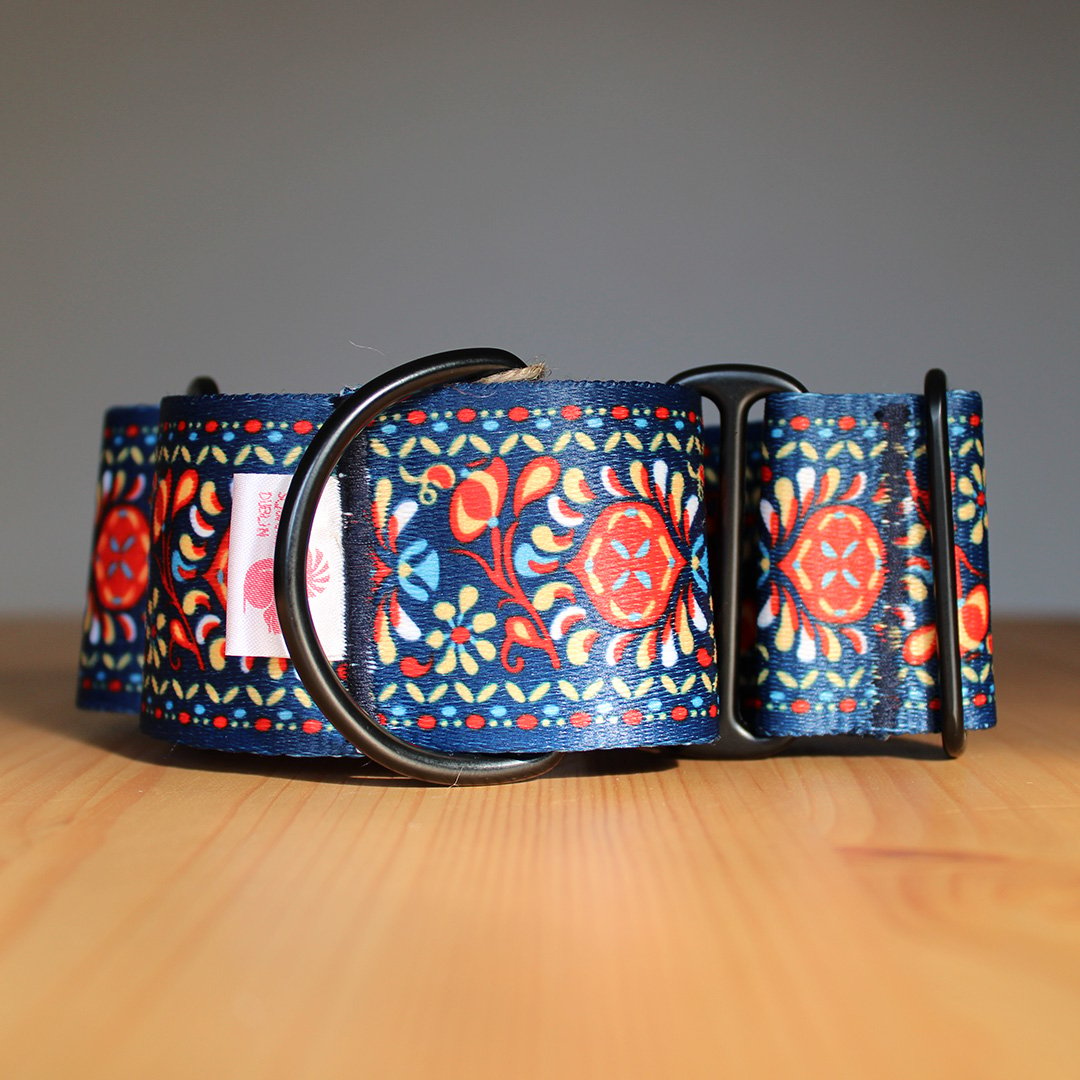 High quality 2 inch martingale dog collar handcrafted in Dublin. Made from black welded hardware to guarantee maximum strength.
This beautiful 50mm wide martingale collar is suitable for medium and large sized dogs with necks between 28-66 cm. Both loops are made from strong webbing.
There 3 sizes available:
S - necks between 28-38 cm. Perfect for lurchers.
M -necks between 38-53 cm. Perfect for greyhounds, huskies and other large breeds.
L - necks between 45-66cm. Perfect for larger breeds, such as Irish Wolfhound.
Please measure your dog's neck before purchasing. If you're unsure which size to get, don't hesitate to contact me.
Martingale collars fit loosely on a dog's neck but tighten when necessary. Perfect for all escape artists! Your dog will be unable to slip out of this collar when properly fitted. Martingale collars are especially safe for dogs with narrower heads such as whippets, shelties and greyhounds, as these dogs often have an easier time slipping out of regular collars.
Each collar has two loops. The first looks like a traditional nylon collar that is adjustable and hangs around the dog's neck. The second is for control when the leash is attached. When the dog pulls, the collar tightens and will stay snug around the dog's neck without choking the dog. When the tension is released, the collar loosens again.
The martingale collar tightens slightly if the dog pulls on the leash, but not so much where it will choke the dog or harm his neck in any way. If you prefer to gently tug on your dog's leash while working on leash manners, the martingale is a nice option.
Dogs that are still learning good leash manners are also more likely to pull or try to twist out of their collars when they see other dogs and other distractions. As mentioned above, the martingale collar is a good tool to prevent your dog from slipping out of his collar.
How to fit:
Proper fitting of a martingale collar is needed to prevent your dog from slipping out of the collar and possibly injuring himself. Slip the martingale collar over the dog's neck. Pull it up to the narrowest part of the neck, which is right behind the dog's ears. Pull up on the smaller control loop where the D-ring is attached. The two metal slides should come together but not touch each other. If they do, the collar is too loose and needs to be adjusted. There should be at least a two finger distance between the two slides. When properly adjusted, it will ensure that the collar will tighten properly when pulled. Since all collars present the possibility of choking, you should never tie up your dog outside while wearing a martingale style collar.